Our Services
Serving Lexington, London, Manchester, Monticello, Pulaski County, Richmond, Russell, Stanford
The friendly and careful team at Ditch-It Junk Removal is here to help! Established in 2020 in Somerset, KY, our team offers easy, stress-free, affordable junk hauling services. Contact us now at (606) 206-8444:

* Junk Removal
* Junk Hauling
* Waste Material Removal
* Waste Material Hauling
* Rubbish Removal
* Debris Removal
* Debris Hauling
* Building Material Removal
* Post Construction Hauling
* Yard Waste Removal
* Waste Recycling
* Waste Disposal Service
* Appliance Disposal
* Mattress Disposal
* Furniture Disposal
* Garage Clean Outs
* Attic Clean Outs
* Basement Clean Outs
* Foreclosure Clean Outs
* Eviction Clean Outs
* Small Construction Debris
* Spa Removal
* Shed Removal
* Appliances Removal
* Furniture Removal
* Dumpsters
About Us
Junk Removal Somerset KY
Your junk removal pros, Ditch-It Junk Removal is at your service! Based in Somerset, KY, we provide professional junk hauling services to residential and commercial clients. Responsible, reliable, and timely, we are here to make sure you have a fuss-free rubbish removal experience. We are confident in the level of services that we provide..."Quality Claimed, Satisfaction Guaranteed".

Locally owned and operated, we are dedicated to providing good service to our community. We are flexible with our clients and work hard to make sure you are happy - we cater to the needs of our customers. From yard waste removal to post-construction hauling, all of our services are available at affordable and competitive prices. Our 6 years of debris removal experience allow us to work efficiently and fast to complete your project in a timely manner. We don't judge - we are here to clean the clutter and get the job done. Your privacy and security is safe with us, all services performed are completely confidential.

Ditch-It Junk Removal serves Somerset, KY and all surrounding areas with professional junk removal services. Our company offers a variety of services including basement clean outs, mattress disposal, waste recycling, and more! Integrity is at the core of our operation - we operate with honesty in all aspects. "At Ditch-It Junk Removal, We Aim to Deliver Top-Notch Quality Services to Clients With Great Customer Satisfaction! And We Aim to Build Lasting Relationships With Our Clients." Discounts are available for senior citizens and veterans. Our waste disposal experts are ready to discuss your needs or provide you with more information, give us a call now for your free estimate!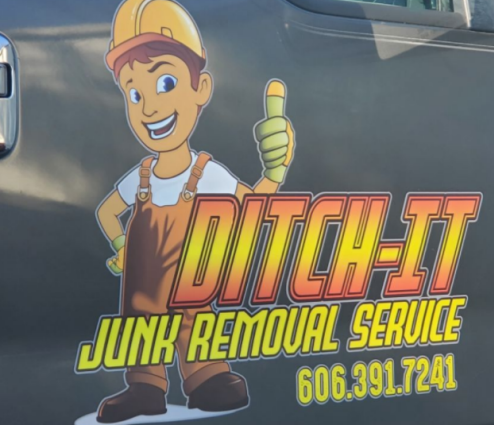 Junk Removal Somerset KY
---
Payment Methods
Check, Cash, Venmo, Cash App